Good news! 2015 China International Sewing Equipment Exhibition (CISMA2015) is going to be held at the Shanghai New International Expo Center on 23th Sept-26th Sept. As strong backing strong of sewing cutting equipment, Han's Yueming Laser participates in the exhibition with eight machines.
According to the hot spots and focus of industry development, the theme of CISMA2015 is "solutions of intelligent sewing." It is easy to see that manufacturing industries like garment, bag, footwear etc globally continue to enter a transitional mode due to many factors like rising material prices and labor costs etc. And this exhibition offers manufacturers a better platform to know various advanced equipment which is innovative, upgrading, integrated and achieve a major breakthrough in sewing cutting industry.
Thus, Han's Yueming Laser is going to participate in this International Sewing Equipment Exhibition with sewing cutting machine. MC275-DH-A triaxial dynamic laser marking machine, MC350-DJ-A laser marker for denim, CMA1612-A four-head laser cutting machine, CMA1080-V camera positioning
laser cutting machine
, CMA1810-FV-C camera positioning automatic feeding laser cutting machine, CMA2125-FT laser cutting machine for airbags, SGF050403-A five-axis laser cutting machine and another machine which will be witnessed on-site all are regarded as "Eight Immortals laser equipment" in the sewing industry. When eight new
laser equipment
of Han's Yueming appear in Shanghai Sewing Equipment Exhibition, everyone can witness their strength.
1. MC275-DH-A is a multifunction and radiation-proof laser marking machine. The enclosed construction can prevent operator from laser radiation, enclosed dust removal system make sure the smoke was exhausted out quickly to ensure safety and environment
2. Laser path could be adjusted manually or electronically to adapt to different marking size.
3. The German high power laser generator and high precision tri-axial dynamic laser marking scanner are adopted to ensure the single marking area could be 600*600mm.
4. Equipped with the automatic flat left-right movable honey-comb working platform to ensure large format processing, maximum processing area could be 1200*600mm.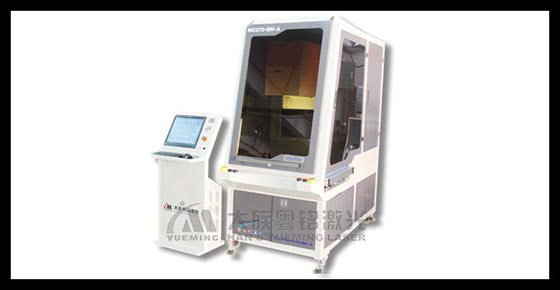 ‖MC350-DJ-A CO2 Laser Marker for Denim
1. Fully sealed design, safety and environmental
2. Imported core device ensures stable performance.
3. High marking speed, high efficiency and precision
4. Work interaction; put the material on the right side while the left side is marking to improve efficiency.
5. High projector equipped for positioning improves feeding speed and convenience.
6. Working table of humanized design and platform for maintenance.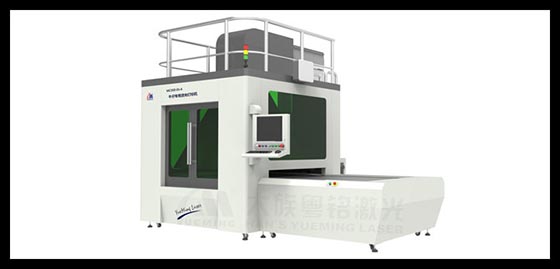 ‖CMA2125-FT Air Bag Laser Cutting Machine
1. Rack & pinion transmission system is adopted to realize the high speed bilateral synchronous drive, which is three times higher in efficiency compared to traditional cutting machines with belt conveyor.
2. Steel frame structure with the overall structure of welding and stress relief treatment, to ensure the machine deformation tolerances within 0.02 mm.
3. Hybrid laser system is adopted to ensure consistent light spot and cutting effect.
4. It could equip with two laser heads to achieve higher efficiency.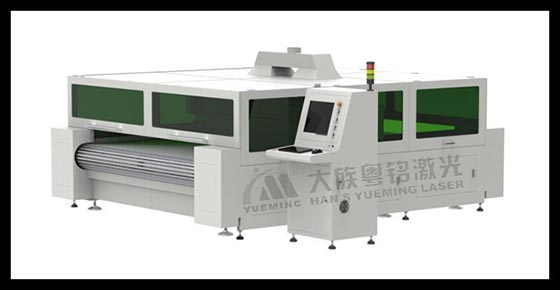 ‖SGF050403-A Five-axis Laser Cutting Machine
SGF SGF050403-A Five-axis Laser Cutting Machine is independently developed by Han's Songgu Roberts and Intelligent Equipment Co.,Ltd. It is a five-axis linkage laser cutting machine with off-line programming system, which is capable of cutting complicated surfaces easily. In cooperation of laser process parameters, precision machinery, 5-linkage CNC system and steady and reliable adsorption fixture, this cutting machine can process precise and graceful space curve and guarantee the qualities of workpieces are consistent.