Have you ever paid attention to the wooden handle comb with patterns on it? Do you like your name or meaningful texts engraved on guitar surface? Wood crafts, such as wooden comb, home plate, toys, models, small musical instruments, can be marked by
laser marker
to make dreamful decoration.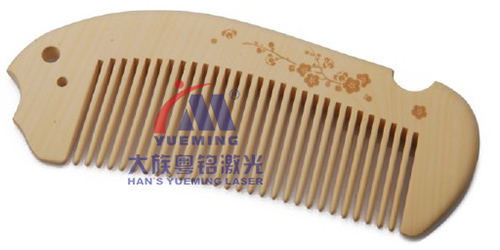 Nowadays with the development of arts and crafts, laser marker has become the main processing method for wood-made crafts marking. Wood products are made based on the fine processing of wood, divided into the following categories: wood furniture, office wood, wood crafts, and daily usage wood products. No matter what the product it is, people's aesthetic requirements keep improving with economic development. The laser marker is an emerging force for wood craft marking.
Delicate pictures make the comb beautiful; the name and numbers marked on the wood-made organ and guitar surface endow the instruments with the unique meaning. CO2
laser marking machine
can bring you a surprise, no matter what your wooden products are. As long as well designing in software, it's possible to mark on the surface of wood products, for various contents such as digital, pattern, batch, text etc.
Solemn, generous, decent, elegant, those good qualities make wooden products marking popular. For meeting the market demand, it is a must to design well products, widely fond of customers. Are you well-prepared in this ever-changing society? Trust that, marking machine will give you wonderful experience to perfect wooden products marking.