Good News!Han's Yueming Laser Group's laser cutting machine awarded Guangdong Top Brand Product title
By : Han's Yueming Laser Group 2017-06-02 Share: Back to list
Nowadays, according to the work promotion arrangements of provincial top brand product, GD Han's Yueming Laser Group Co., Ltd(The fellow is called Han's Yueming Group)through the city audit checks, public declaration data, on-the-spot enterprise check, expert comprehensive evaluation, and the review and confirmation of the plenary session of the provincial top brand product promotion committee, then awarded the title of Guangdong Top Brand Product.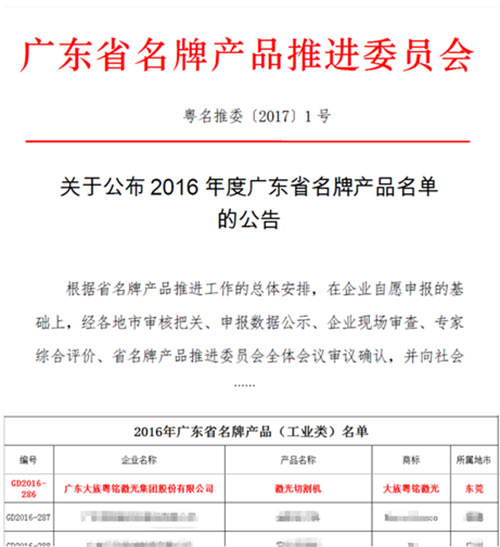 The title of Guangdong Top Brand Product is according to the evaluation system of Guangdong Top Brand Product, and stand out from many excellent enterprises. Not only the evaluation reflects the trust and love to Han's Yueming Group from customers, but also the affirmation of brand value. According to the evaluation system of Guangdong Top Brand Product, Han's Yueming Group get good grades in market evaluation, quality evaluation, benefits evaluation and development evaluation, its internal brand management of enterprise is very standardized and innovative.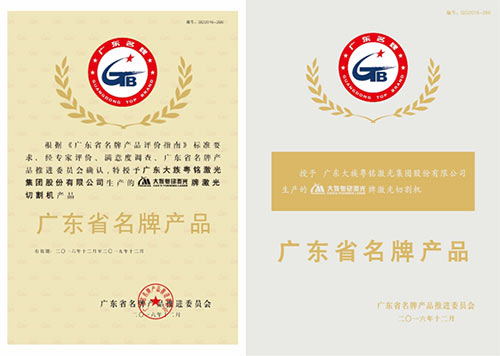 It is worth mentioning that after the laser marking machine of Han's Yueming Group received this prize, as a new project of laser cutting machine in 2016, Han's Yueming Group received government approval again after declaration, and announced the lists of winners recently. This is the affirmation and encouragement of the achievements for the whole Yueming staff. We should constantly to strive to further improve the brand share for the rapid development of enterprises and brands to make their own contribution.
Over the past 17 years, Yueming staff have been striving for excellence in quality and lasting value, and innovative thinking has been in-depth corporate culture of bone marrow. With a strong design and development capabilities, leading patented technology and unique design style, Han's Yueming group constantly introduce new, I believe it will continue to lead the development of industry technology in the future, constantly expanding the brand strength of our domestic and overseas market.
PREVIOUS: Hans Yueming Laser in ITMA2019 (Barcelona)
NEXT: What's the lastest price of fiber laser marking machine?
700W Fiber Laser Cutting Machine's Performance and Parameter...
As a well-known 700w fiber laser cutting machine manufacturer, Han's Yueming Laser produces laser cu...
Meet New High level Fiber Cutting machine...
High level fiber cutting machine is the same as other laser equipment which has already recognized a...
How Much Does a 200W Laser Cutting Machine Cost?...
Laser cutting machines for the cutting of non-metal materials are generally equipped with C02 laser...
VIDEO CENTER