How to Choose the Right Auto-feeding Laser Cutting Machine for Your Upper Making Business
By : Han's Yueming Laser Group 2017-03-18 Share: Back to list
People love beautiful clothing, shoes, bags, which means a lot of opportunities for manufacturers. Indeed, they add lots of gorgeous things to our lives. And only advanced laser machines can make out perfect garments and bags for us. That is why auto-feeding laser cutting machine 's contributions cannot go unnoticed.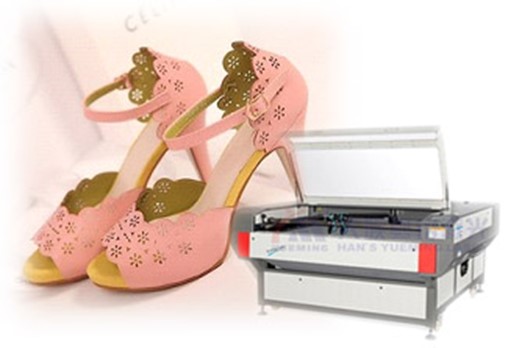 Comfortable, natural, generous, elegant clothing are the favor of people, and also love to use different shoes to ornament ourselves. The main material of the upper of shoes is leather (including natural materials and artificial leather) and fabric, then how to fine process this material becomes a primary problem of manufacturers.

By its definition of auto-feeding laser cutting machine is automatically transferred processing material to produce. Laser cutting machine, laser engraving machine is widely used in garment bags processing industry.

Multi-style hollow leather upper, lace shoes have always been people like, and it becomes the best choice for manufacturers. With the advance in technology, we no longer need manually painstaking carving, but adopt advanced laser processing machine, which only can help shoes manufacturers to customize according to customer demand, but also to make more in line with modern fashion unique products.
Do fine upper, create the perfect shoes, and produce pairs of beautiful and comfortable shoes to people. After years of Han's Yueming auto-feeding laser cutting machine launched, but we are still increasing its R&D investment in order to meet the changing needs of the consumers, and getting enthusiastic response and praise of users at home and board, which is your best choice of laser cutter for shoes upper.

PREVIOUS: Turkish Laser Sheet Cutter: Manufacturing Businesses' Right-hand Man
NEXT: Turkish Laser Sheet Cutter: Manufacturing Businesses' Right-hand Man
How Much Does a 500W Laser Cutting Machine Cost?...
500W laser cutting machine, referring to laser cutting machine equipped with a 500W fiber laser gene...
Paper, Clothes, and Laser Cutting Machine...
Fashion designers, who have got tired of playing with conventional clothing materials, turn their ey...
700W Fiber Laser Cutting Machine's Performance and Parameter...
As a well-known 700w fiber laser cutting machine manufacturer, Han's Yueming Laser produces laser cu...
Laser Applique Cutting Machine: Show Me Your Style...
As the time gone by, are you wondering how to add to it another bright spot and "wow" your friends i...
VIDEO CENTER